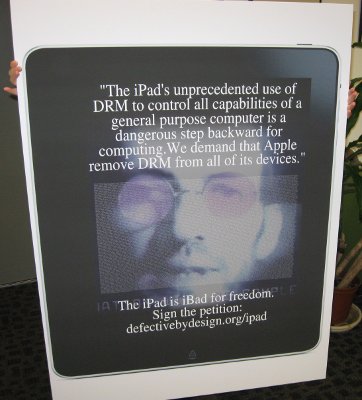 just this morning i came across First 5,000 "iBad" petition signatures delivered on giant iPad on DefectiveByDesign.org

The response to our iPad protest and petition has been tremendous: 5,000 people signed in the first 24 hours, with coverage in the technical press, Digg, Slashdot, Reddit, The Guardian, NPR, and more. The petition is still running, so please sign and share it with friends–help us hit 10,000 signatures by the end of the day!

Today Defective by Design will deliver the first 5,000 signatures on a giant iPad tablet, direct to Steve Jobs. We'll send another tablet for each new block of 5,000 signatures.
Many iPad jokes later I still don't know why I would want to have this bigger, magical, revolutionary, extra ordinary product (via kepana)
Popularity: 1% [?]
Tags:
ipad